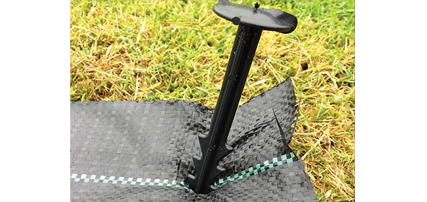 The weed membrane anchor pegs are a cheap but useful addition to a flawless artificial grass installation. We would recommend a weed control membrane for almost all installations onto topsoil to prevent roots, weeds, and shoots from disturbing the evenness of the artificial grass.
To install, lay out the weed control membrane across the installation area and hammer the anchor pegs into the soil every metre or so along all edges. One peg would also be sufficient if laying more than one strip of weed control membrane side by side. The sand sub-base would be laid on top of the membrane.
Application methods
Position each peg every 1 metre along the edge of the weed control membrane
Hammer into the soil until the flat head is level with the surface
Features
Barbed shaft to offer long term installation security
Flat nail-head to allow easy installation into the ground plus levelness with surface.
Tough plastic composition that will not decompose or break down in the soil
One peg positioned every 1 metre of weed control membrane.
Each pack contains 25 pegs.