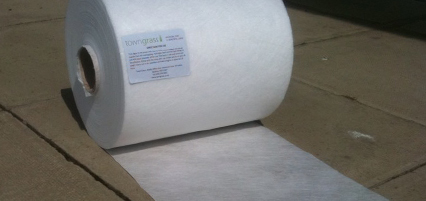 Recommended for high use areas as the combination offers a very secure seam.
Lays flat and rolls out evenly down length of seam.
Adhesive is then easily distributed along the Seaming Tape.
Application methods
Ensure the sub floor is smooth, clean, sound and free from dust, loose particles or contaminants such as oil, which may affect adhesion.
Dampness can be tolerated but any surface water should be removed.
Aqua Bond Adhesive should be applied to the Seaming Tape and at a coverage rate sufficient to leave ridges of adhesive high enough to transfer to the back of the carpet.
To ensure the seams are secure it may be necessary over the next two hours to apply weights to hold the surface in contact.
Measure in metres how many seams there are and this is how much you will require. If unsure add an extra 10%.