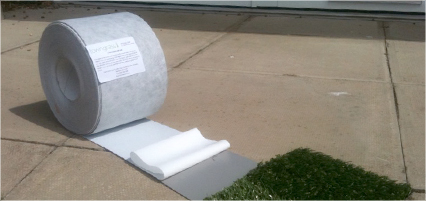 Self adhesive tape is designed for a clean and easy installation.
The tape, already applied with the adhesive, has an easy peel back cover, so the carpet can be laid straight on to the tape.
Application methods
Roll out the artificial grass in parallel strips so the edges are touching.
Bend the edges back and install the tape between the rolls where the seam will be folded, adhesive side up.
Fold the edges back onto tape. Ensure that the grass fibres do not touch the surface of the adhesive, press the seam firmly.
ideally leave them seams weighted with planks or similar for 24 hours before using surface.
Measure in meters how many seams there are and this is how much you will require. If unsure add an extra 10%.