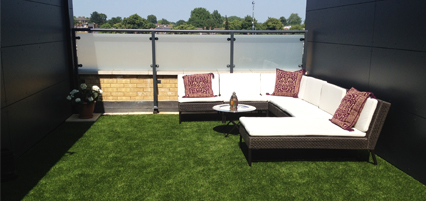 Artificial grass is an ideal accessory to any balcony or roof terrace. Rolls are available in 2 or 4m widths and are very easy to cut or trim to fit different shapes and sizes.
The artificial grass can be easily rolled across the surface and is free draining so rain water won't be an issue. It can be easily cleaned (even with vacuum cleaner!), it doesn't fade or disintegrate: it really is the perfect decorative feature for your balcony.
Artificial grass is..
Ideal for Balconies
or Roof Terraces
Great on Roof Gardens
or in Conservatories
on Patios
or Decks
Easy to install
Long-lasting
Cheap!