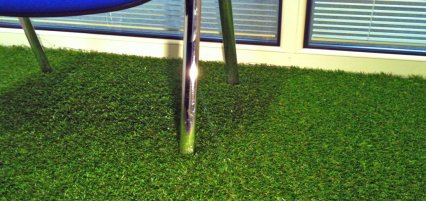 Contact us today to discuss how your office or workspace could be transformed with artificial grass. Our grass carpets have been used for exhibitions, shows and conferences – if your business is sports-related, landscape-related, patio or garden-related, why not try a spectacular themed office.
Show your clients that you mean business. Our grass is easily applied to a variety of floor surfaces. It is durable against moving furniture, easy to clean, and realistic looking.
How much would it cost to kit out your office with artificial grass? Try our quick quote calculator on the right for an instant price for our grass products.
Artificial grass is..
great for a grass-themed offices
for indoor or outdoor office spaces
easy to clean and vacuum
easy to install
looks realistic and is soft to walk on
non-toxic and odorless
UV resistant