Artificial grass for patios and decks

More uses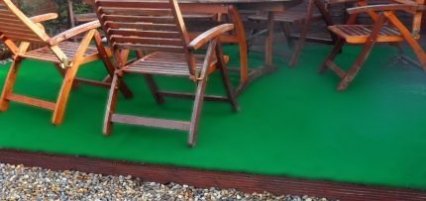 Artificial grass is a great addition to a patio or deck. It is soft to walk on, easy to attach, easy to clean, and adds a nice touch of colour to an area.
How is it installed?
Our products are very easy to install manually and can be laid on virtually any surface which makes them ideal for patios and decks. For wooden surfaces, the carpet can either be nailed down or simply stuck on using one of our adhesives. Our aquabond cartridge can also be used for concrete and hard core surfaces. Alternatively, it can be nailed to a surrounding timber frame.
Artificial grass is..
fire-retardant
non-toxic
hard-wearing (under furniture)
easy to install