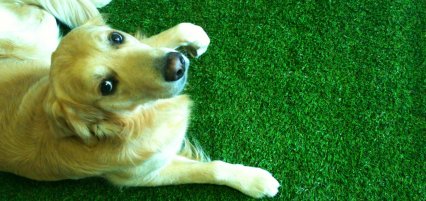 Artificial grass is perfect for gardens with pets – we get a lot of enquiries from owners whose pets tear up the lawn, dig holes, enter the house wet or muddy, and are fed up with the hassle. An artificial grass garden is not just a great solution for gardens where grass doesn't grow; it is also ideal for pets to play on, and for the whole family to enjoy being ourdoors again without risking mud to the indoor carpet areas.
With artificial grass, every member of the family can stay clean both in and outdoors – including the member most likely to bring mud into the house.
How much would it cost to transform your garden? Try our instant cost calculator on the right. Just enter the length, the width and then choose your grass and the quote will be calculated for you automatically.
Artificial grass is..
great for pets
clean, tidy, and non-toxic
easy to install
cheaper than re-seeding or mowing real grass
does not require water
soft to walk on barefoot (or bare-pawed)
easy to clean