Artificial grass in North West London
Town Grass are ideally situated to serve the towns and boroughs of London with top quality, British-made, artificial grass. Artificial grass is booming all over London: in the gardens of town houses and terraces, to balconies and roof gardens around the city.
We have premises in the South East of England meaning we can provide great rates for installation as well as supplying the grass for great prices. We offer a quick and simple Buy Online process (just use the quick quote calculator on the right to start the ball rolling) – with help and advice along the way too, making the act of transforming your garden a doddle. Everything you need for another of London's great looking gardens is available on this website – artificial grass, seaming tape and an adhesive for an extra secure installation.
The benefits of artificial grass
1. It is great for pets: dogs can play on it but they can't dig it up or bring filth into the house.
2. It is great for children: hard wearing and durable, yet soft and cushioned to run and play on.
3. It is easy to install and is a very pliable material: artificial grass can be cut to fit around any ornaments or fixtures, furniture, trees, fences or walls.
4. It is easy to clean: the backing material is punched with drainage holes so that cleaning can be done simply with a hose. More thorough cleaning can be done with a cloth, mop, brush.. anything really.
5. It is safe: our artificial grass is manufactured in the UK, it is fire retardant, non-toxic, UV stabilized, and durable.
6. It is cheap: in fact, it is cheaper than a natural grass lawn when lawn mowers, and water bills, and seeding, and top soiling are factored in. To see how cheap it is – just punch the numbers into the calculator on the right.
Artificial grass in North West London
It is more than likely that we have installed an artificial grass lawn in your area. Take a look at the before and after picture below. This is a garden in Brent. The before picture tells a story of gloomy paving slabs, a colourless back garden, and no fun at all for young children. The after picture shows a garden that is fresh and tidy all year round, great for ball games, and requires virtually no maintenance at all.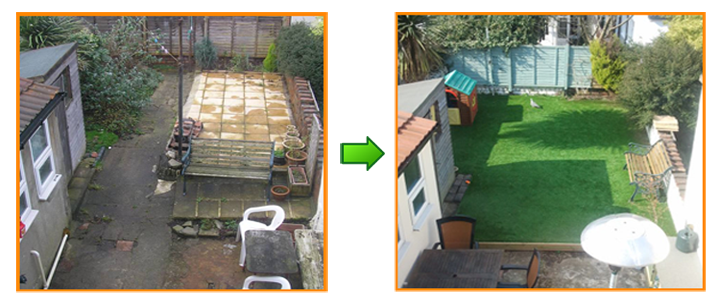 Areas we serve
We are a UK-wide supplier with offices and supply centres dotted across the country. If you are looking at this webpage, the chances are you live in Brent, Harrow, Barnet, Camden, Ealing, Hammersmith, Fulham, Kensington, Hillingdon, or Hounslow.
If you would like a quote for an artificial grass installation service at your post code, please feel free to get in touch by phone, email, or make an enquiry here.